Below are the qualifications I hold in both Hypnotherapy and Pharmacy, along with details of the some of the ongoing professional development I have undertaken in hypnotherapy.
Hypnotherapy
Hypnotherapy Practitioner Diploma (2014)
Certificate in Stress Management (2014)
Irritable Bowel Syndrome (IBS) Masterclass (Michael Mahoney – 2015)
Brief Therapy Masterclass (Rubin Battino 2017)
Parts Integration Masterclass (Brian Roet – 2017)
Positive Psychology (2019)
Anxiety, Stress and Panic Attack Workshop (2020)
Eye Movement Desensitisation and Reprocessing (EMDR) incorporating hypnosis (2022)
Pharmacy
BSc (Hons) Pharmacy (1991)
MMedSci Clinical Oncology (1998)
PhD Pharmacy Education, Nottingham University (2008)
Professional Registration
I am a Registered member of the National Council for Hypnotherapy (MNCH (Reg):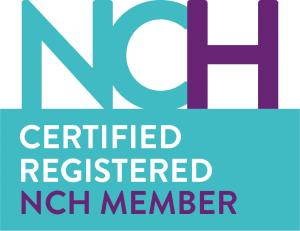 and an Accredited Member of the National Hypnotherapy Society (MHS (Accred.))
and am registered with the Complementary and Natural Healthcare Council
Working with Anxiety UK  
I am also an Anxiety UK Approved Therapist providing therapeutic support to the charity's members and partner beneficiaries. I am subject to Anxiety UK's regular monitoring of my professional qualifications, supervision, continual professional development, insurance and professional body membership in addition to complying with the ethical framework and professional standards set down by my registered governing body.
Full details of the Anxiety UK Approved Therapist scheme can be found here – www.anxietyuk.org.uk/getinvolved/therapists-at-anxiety-uk Details about becoming a member of Anxiety UK to be able to access therapy via the charity can be found here www.anxietyuk.org.uk/membership .